This time has finally come.
We are moving back to Florida at the end of the month! I couldn't be happier to get back to my home.
I could however, go without having to move again. I hate moving. If I were rich I would totally hire people to do this for me.
One good thing about moving is that it's the perfect opportunity to go through all your crap you have been unknowingly hoarding in your house. I have cleaned out my closets, and got rid of baby things we don't need anymore. Even sold some furniture that we didn't want anymore.
One thing that has been taking up a lot of space are all the baby clothes I have kept for my " maybe someday future baby girl.." I usually keep my favorites, and give the rest away. Apparently I have a lot of favorites, and the amount of clothes would be taking up some valuable space in our moving truck.
I bought these space savers bags at Bed Bath and Beyond, you put you stuff into, then vacuum all the air out of, until the bag is flat, and compact.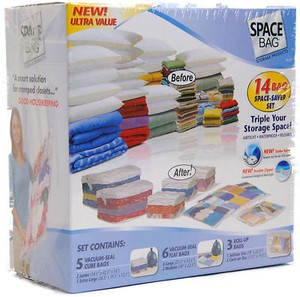 I had seen these on TV a while ago and it was one of those " why didn't I think of that" moments.
So even though I appreciate every single one of my readers, ( like seriously thank you!) I was not about to count every piece of clothing I put into these bags, but this picture just doesn't do justice to exactly how much clothing this is. So I decided to take a picture of what I use to store them in. That's two plastic bins, and a pretty black garbage bag... Don't be jealous of my awesome camera phone pictures.

this is two plastic storage bins, and a pretty black garbage bag...
Along with the clothes, I also have Ava's crib bedding, I really love her bedding, and MAYBE just maybe, I'll end up using it again, so I wanted to keep that to.
SO in this picture you will see: 4 crib bumpers,a baby comforter, crib skirt, a sheet, and 2 curtains.
Once I started space saving I just couldn't stop. Watch out Ava momma is getting organized!
Since we are moving to Florida, where it's cold for a total of 2 months of the year... We really don't need all of our sweaters,jackets taking up valuable closet space, so I did those to! Sorry but this vacuum sealing items gets tiring and I don't have a before and after picture :( but what once took up so much space in our closet is now flat, and can be slid underneath our bed until we need them!
I didn't just stop there, I also did my wedding dress! That seriously took up a lot of closet space.
Click here
so see pictures of my wedding dress before I sucked the life out it! This is after, now it's small, and flat enough to fit in a drawer with other clothes in it.
I highly recommend these bags for anyone who is low on storage space, or who is moving...or even
traveling imagine how many more outfits you could fit in your suitcase!
(this was not a paid, or sponsored post, just me sharing the love)